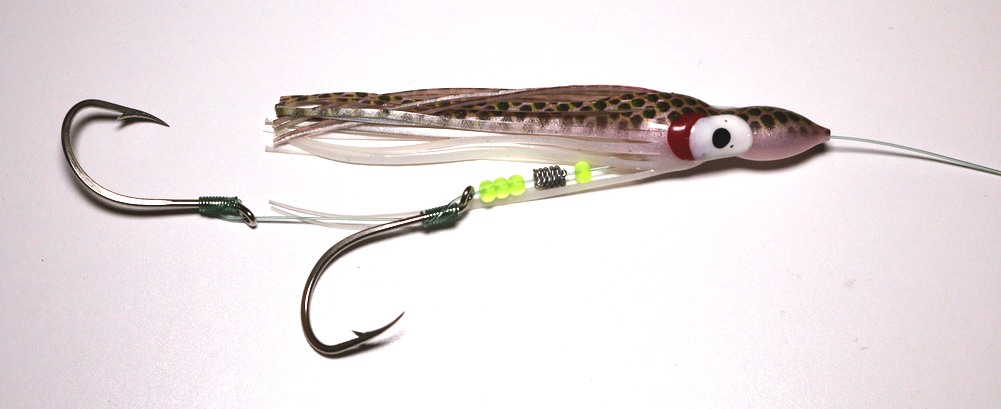 WE ALWAYS RECOMMEND USING NEW HOOKS AND TERMINAL TACKLE
Electron Attractors MUST be isolated from all other
metal in order to work properly.
SALT WATER 1
Sockeye Salmon - Halibut - Tarpon - all Cod and Sea Bass
All species, "all purpose" attractor. An absolute must have for all salt water anglers worldwide.
Use 1 for lures and baits up to 4 inches or 10 cm.
Use 2 in line for baits and lures up to 6 inches or 15 cm.
Use 3 in line for baits and lures up to 10 inches or 25 cm. includes Mackerel as bait.
Use up to 5 in line for baits and lures up to 24 inches or 60 cm.
For OFF SHORE surface trolling use 2 on the teasers and three on the fighting rods.
Attracts Chum, Sockeye and Pink Salmon like crazy.
Integrate into flies for the wildest fly fishing of your life.
Best Choice For; All bottom fish species, all flat fish species, all drum species, all Billfish species, all Mackerel species, all Sea Bass species, Tarpon, Barracuda, Wahoo and Dolphin Fish.
TAKE THE ELECTRON CHALLENGE
Use 2 identical baits or lures, arm one with the appropriate number of attractors and fish at the same depth and distance. You will soon find out what all the fuss is about.
SALT WATER 2
Chinook & Coho Salmon - Bonefish
The Salt Water 2 was designed for the most selective fish species like Chinook (King) and Co-Ho (Silver) Salmon as well as Bonefish, Permit and Sea Trout.
PACIFIC SALMON
Use 1 off shore and 2 in shore with spoons, plugs, cut plugs, teaser heads with Anchovy or Herring bait.
Add to Herring and Needlefish streamer flies
(see Fly Corner), cast parallel to the flowing Kelp leaves where salmon hide. Not for the faint of heart.
BONEFISH, PERMIT AND SEA TROUT
Use 1 attractor for soft plastic shrimp and crab baits or live or dead bait of the same.
Add to your favorite crab or shrimp fly pattern to replicate the natural electron field projected by all soft shell crustaceans.
SALT WATER 3 - Big Lure
All Bass - Drum - Snook - Bill Fish - Tuna - Mahi Mahi - Wahoo - Tarpon - Sailfish
Known as the game changer, absolutely incredible for inshore species like Snook, Redfish, Tarpon and Barracuda. Brackish water Largemouth Bass and Striped Bass can't resist this attractor.
Off shore use 1 or 2 for Sail Fish, Marlin, Wahoo, Sward Fish, Tuna, King Mackerel, all Sea Bass, Halibut, all Cod, Zebra Fish, White Bass, Trevally and Mahi-Mahi.
Use 1 for lures and baits 6 inches and over,
2 for lures and baits up to 10 inches,
3 for off shore lures up to 24 inches long.
SALT WATER 4 - BIG GAME
Grouper - Marlin - Shark - Bluefin & Yellowfin Tuna
This is our strongest salt water attractor designed to replicate the electron field of a fast swimming bait fish, stressed or injured about 3 to 6 lbs.
Shark fishing tip, wrap hook shank with electrical tape then tie the Electron to it with fishing line so it does not contact hook, crimp or cable.
Use with live or dead bait 4-6 lbs.
For all large game fish.